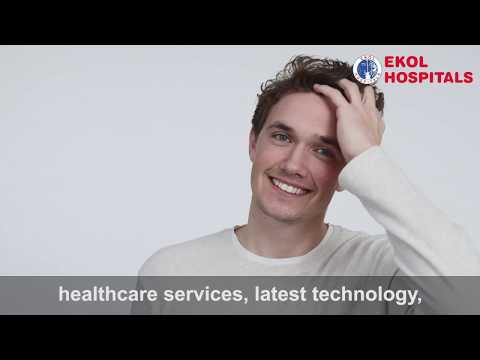 Hair loss is a very common problem among men and might be related to DNA heritage or other reasons. Hair transplant (also called hair restoration or hair implantation) restores hair by transplanting new follicles into bald or thinned areas. Healthy follicles are taken from other areas of the body, most often the back or the sides of the head. This can be done by removing a single strip of skin and hair or removing the follicles individually. The number of grafts needed depends on the patient and the size of the area being treated. Most common method is FUE method.
HAIR TRANSPLANT BY ESTHETIC SURGEONS AND MORE THAN 15 YEARS EXPERIENCED TEAM WITH STATE OF ART TECHNOLOGY AND EXAMINATION METHODS
Feel Younger!
All Inclusive Package:

-Round Trip Flight Tickets
-Staying 3 Nights at 5 Star Hotel Including Breakfast (Hilton Group Hotels)
-All Prescribed Medicines
-VIP Transport
-Personal Assistance
-One Year Free Consultation
-All Necessary Tests Before and After The Operation
Frequently Asked Questions
The procedure should be done by professional and experienced individuals only in a sterile, special environment. Otherwise you might have unsatisfactory results and the whole process might upset you. Thanks to the experience of our esthetic surgeons and medical staff and state of art technology used in our hospital. The results of hair transplant procedure is very satisfying.
Ekol Hospitals Aesthetic and Plastic Surgery Clinic is highly experienced in Hair Transplant treatment. The examinations are performed by our esthetic surgeons and the whole process is realized under their supervision. Advanced methods of examination and up to date technology is used in our clinic in order to maximize patient satisfaction in a sterile, specially conditioned environment. Being a general hospital also helps us build trust among our patients, giving us the chance of working with a multidisciplinary perspective.
The question is actually "How many grafts do I need?". Each patient has different thickness, amount and different emptiness. The graft numbers should be decided by the doctor and the team according the bald area and the donor area. There is no need to damage the blood circulation in the sculp in order to transplant more and more grafts. The best solution is the "ideal amount of grafts" for an optimal hair transplant. More grafts sometimes cause more hair loss.
There is actually no pain at all. Your sculp will be numbed with local anesthesia injections and after that you will not feel anything. Lying down for long time might be a bit discomfortable but our team gives small breaks during the procedure. You might also choose the "Comfort FUE" method and get sedation by our anesthesia specialists and have the whole process nearly sleeping.
Follicular unit grafting requires tiny incisions to the recipient area and any resultant scarring is generally invisible to the untrained eye. There will also be a small scar from the donor area at the back of your scalp, but it will be hidden under existing hair. So there is actually no scars at all.
Hair growth is a whole process starts by the operation and ends when all the new follicles grow. After you have the procedure, initial signs of growth can take anything from three to four months due to the hair's natural growing cycle. The new implanted hair follicles will fall within 3 months and new ones will start growing! So no worries if you lose the new ones!
The hair follicles that are transplanted are genetically-resistant against baldness so they will continue to grow over your lifetime. That is why the new follicles are taken from the back or side of the head.
You'll generally only need to take it easy for a couple of days after the procedure. Take it easy while allowing your body to recover. Nutrition, daily activities, water consumption is very important during the healing process. Our team will guide you about all the necessary points and you will have your Step to Step guide for the post operative period.
The follicles are collected randomly from the back or side of the head. So untrained eyes can not understand that you had a hair transplant or no one will notice any emptiness at the back of your head. Some patients might prefer leaving the hair a bit longer then normal at the back side.
Our Doctors
He graduated from Ege University Faculty of Medicine in 2006. Between 2007 and 2012, he received his specialty training in the Plastic, Reconstructive and Aesthetic Surgery Department at İzmir Atatürk Training and Research Hospital. In 2017, he started working as a lecturer at Giresun University Faculty of Medicine Plastic, Reconstructive and Aesthetic Surgery Department. He received the title of associate professor the same year. He has 14 original articles published in domestic and foreign scientific journals, and 17 written and oral papers presented at national and international congresses. He is a member of Izmir Chamber of Medicine and Aegean Region Aesthetic and Plastic Surgery Association. He is married and has two children. He speaks English fluently.
Domain Knowledge: Rhinoplasty, Eyelid aesthetic, Face rejuvenation (face-neck lifting), Otapostatis, Breast aesthetics (enlargement, reduction, lifting), Correction of gynecomastia, Abdominal stretching, Tummy Tuck, Arm - Thigh lift, Genital aesthetics, Lipoedema surgery, Liposuction, Fat injections, Body shaping (Hip aesthetics, BBL), Minimal aesthetic applications (filling- neurotoxin), Fractionated laser applications, Skin Tumours, Facial Traumas.
Operating Doctor Cenk Melikoğlu was born in Görele, in 1978. In 2002, he graduated from Dokuz Eylül University Faculty of Medicine. Between the years of 2003 and 2010, he did his specialization in İzmir Atatürk Training and Research Hospital, Aesthetic and Plastic Surgery Clinic. In 2015, he worked as a guest lecturer in the American Hospital of Paris. When abroad, he especially focused on the transfer of free vascular lymph nodes for lymphedema treatment, in the field of microsurgery. He participated in numerous training and meetings in this area. There are more than 30 articles in the literature, which were published in national and international journals. Since 2016, he has been working in İzmir Özel Ekol ENT Hospital in Aesthetic Plastic Surgery and Cosmology Clinic. He speaks English well. He is married and has one child.
His special interests are; Breast Aesthetics with Enriched Stem Cell Support & Dual-Plan Method, Aesthetic nose surgery, Lymphedema surgery, Endoscopic facial stretching, Aesthetic body shaping surgery (abdominal stretching, liposuction, aesthetic breast surgery), Hair transplantation with FUE method, Migraine surgery, Gynecomastia correction, Genital aesthetics (especially penis enlargement), Lymphedema Treatment (Laser Assisted, With Microcannula Lymph Protective Method), Penis Enlargement (Length & Thickness Combined Method), Migraine Surgery (Closed Method with Scopy). He was entitled to receive the "Proficiency Certificate" by being successful in the examination, which was held by the Turkish Plastic Surgery Association in 2010. In 2015, he participated in a scientific competition by Gülhane Military Medical Academy with his study 'Saddle-nose deformity repair with micro-plate-adapted costal cartilage.' He has won the first place in the field of surgical medicine. In 2018, he worked at Weiss Memorial Hospital in Chicago, USA for three months in April, May and June on advanced techniques on gender reassignment and penis enlargement in men. He is still continuing his academic and scientific studies.
He graduated from Eskişehir Osmangazi University Faculty of Medicine in 2008. He studied at Kaunas Medical Faculty between the years 2007 and 2008. He completed his specialization on Plastic, Reconstructive and Aesthetic Surgery Department at Afyon Kocatepe University between the years 2009 and 2014. He has 5 original articles published in national and international scientific journals, and 13 verbal and written academic papers presented in national congresses. He continues the academic studies. He received the competence certificate of Turkish Plastic Reconstructive and Aesthetic Surgery after his success in the exam in 2016. He did well in European Plastic Surgery Competence Written Exam that took place in Brussels in 2019.
Fields of Interest: Rhinoplasty Neck lift surgery, Face lift Surgery, Otoplasty, Tummy tuck, Liposuction, Breast augmentation / reduction / mastopexy, Gynecomastia, Genital aesthetics, Blepharoplasty, Lipoedema surgery, Penis enlargement (lengthening and thickening surgery), Fat injections (combined treatments with Stem cell and).